I'm a Christian but I understand that there is a lot of moral wisdom to be gained from nonChristian and non-religious books. I also often think that the Bible may be lacking sometimes in practical guidance. For instance, Jesus instructs us in Matthew 5:22, that even being angry at your brother is a sin. But he doesn't tell us how to stop being angry. And the church doesn't usually offer any advice beyond "call on the Holy Spirit to give you [patience, endurance, kindness]."
In Bible study, we are wrestling with the idea of God being our friend, while also being someone who was revered. The group agreed that "Sup, Bro" would be too casual to say to God. But they also agreed that getting angry at God was ok. But I think it's got to be more reverential to ask "how are you" in vernacular than it is to express anger. Plus, though I realize that God isn't a human, so we don't really have to worry about God's feelings, I think the act of getting angry, even when another person is not the victim, has damaging effects on us.
How to Fight by Thich Nhat Hanh has a really misleading name. It's really about controlling your anger. Hanh shares my belief in the corrupting force of anger:
When you try to get anger out by hitting something like a pillow, it may seem harmless. But it's not certain that you can release your anger by hitting the pillow, imagining it to be your enemy, the one who has made you suffer. You may be rehearsing your anger and making it stronger instead of releasing it. . . By rehearsing our anger we are creating a habit of being angry, which can be dangerous and destructive.
So Hanh is saying, the act of getting angry, even when there are no victims, is destructive to oneself. I think we know this instinctively to be true. My favorite passage is called "Killing Anger":
…he cursed the Buddha to his face. The Buddha only smiled. The cousin became even more incensed and asked, "Why don't you respond?" The Buddha replied, "If someone refuses a gift, it must be taken back by the one who offered it." Angry words and actions hurt oneself first and hurt oneself most of all.
This passage reminded me that, many times, you have complete choice in how to respond to people. (It's also helpful to think of in terms of gifts this holiday season. If someone gives you a malicious gift, you can just give it back. You don't have to accept everything that is given to you). They may bait you, they may come at you with anger, but you don't have to return the gift. They can take the anger home with them. You don't have to take the anger home with you.
It's funny that when you start reading books, they all start to relate to one another. The Longevity Plan , which I had discussed in another blog post, had also talked about the dangers of anger for the heart and breathing as a means to remove anger.
This book was really helpful to me for understanding my own anger. When I think of getting angry, I think of fighting. I don't stop to think, did I misunderstand what the other person said or did? Do I need to fight back? If I started fighting, what would "winning" look like?
But when you're angry and the other person is angry, you feel like you're the only one suffering but the fact is, you're both suffering. Hanh compares fighting in this scenario to running after the arsonist when your house is still on fire. By settling the anger within ourselves, we stop both sides from suffering, and we train ourselves not to become angry. This is the only way to truly put out the fire and prevent more fires from spreading.
What are your techniques for defusing anger?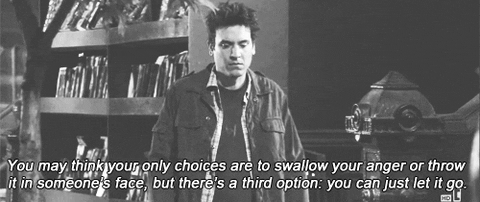 Image via Giphy.